TAKE ACTION
Menu
Inspiring Audiences to Action
1) Find success stories to spotlight
What success stories from your audience's own communities and from organizations like theirs will show that change is possible? Consider these suggestions – what kind of stories will your audience connect with?
Improving conditions directly related to early childhood
Increase social supports for families such as:
child support payments
paid parental, family and sick leave
low-cost or free universal, high-quality child care and preschool
home visiting programs
increase the earned income credit
quality schools
safe places to play
Improving working conditions
Decrease job strain
Increase job autonomy and worker participation
Provide flexible work hours to parents who need them while ensuring reliable work hours
Encourage businesses to hire locally
Strengthen and enforce occupational safety laws
Guarantee paid sick leave, parental leave and paid holidays and vacations
Ensure employees don't feel 'on-call' after hours
Provide time and private areas at work for new mothers to nurse and pump
Advancing living wages
Raise the minimum wage to a level that can support a family
Provide income, education and training for the under-skilled and unemployed
Support collective bargaining rights
Invest in needed infrastructure which improves communities while creating jobs
Support the right to reliable work hours; ensure healthcare for all
Restore a progressive income tax and inheritance taxes
Constrain financial speculation; encourage worker-ownership
Improving schools
Require smaller class sizes; equalize school spending
Increase teacher pay, training, and prep time
Reform educational policies based on high-stakes testing
Create partnerships with families
Keep facilities open in the evenings for community use
Improving social inclusion
Decrease social inequality
Struggle against discrimination and segregation
Encourage democratic decision-making
Strengthen participation in community organizations and local governance
Promote the creation and use of public spaces
Organize support groups for parents, including home visiting programs
Improving the physical environment
Create more quality, low-cost housing
Improve air quality and reduce exposure to toxins, especially lead and air particulates
Create more parks and green spaces
Promote farmers' markets and fresh produce in local stores
Ensure safe sidewalks and streets
Provide reliable and low-cost public transit
Encourage "green" development and pedestrian-oriented planning
Promoting racial justice
Strengthen existing anti-discrimination laws and their enforcement
Desegregate schools and equalize funding
Build diverse neighborhoods
Ensure that neighborhoods of color are well-served by transit, parks, fresh food markets and other resources
Provide resources for jobs and educational access and retention
End unequal enforcement of minor drug, traffic and other offenses
Stop racial profiling and policy brutality
Build awareness of implicit bias
Use an equity lens to evaluate projects and initiatives, including development and transit
* Note: Promoting racial justice is intrinsic to all the efforts above.
2) Offer Concrete Ideas for Action
How will you translate the energy generated during your screening event into concrete action? For example, your participants can:
Organize screenings within their own organization
Identify programs and initiatives that can use the series as an educational tool
Organize local screening events with PTAs, book clubs, neighborhood associations, churches, tenant groups, racial justice groups, trade unions, etc.
Partner up with state and national organizations working on the key struggles for children and families in their neighborhoods
Broker partnerships among child-focused organizations and organizations from other sectors (e.g., connect housing, education, employment, political orgs)
Change the conversation through op-eds, letters to the editor, call-ins to radio shows, blog posts, etc.
Organize a policy forum for government officials and civic leaders to learn about early childhood
Sign up for your social media (newsletter, Facebook posts, Twitter feed, Instagram, etc.)
Whatever you choose, it is essential that you take into consideration the expertise and capacity of your audience so the actions are realistic and compelling to them.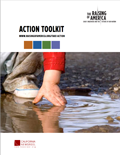 Eight Ways to Use the Series to Advance Your Work
Six Elements of a New Conversation
Planning a Successful Screening