TAKE ACTION
Menu
Ensuring a Productive Discussion
Consider how you can engage participants in active, results-oriented, critical and creative thinking from the moment they arrive.
Ask New Questions
Ask questions that pivot the conversation to changing social conditions.
USUAL QUESTION
NEW QUESTION
How do we buffer children from adversities?
What's causing these adversities and who benefits?
What policies can improve conditions for young children?
Who's at the table making decisions? Who's left out? Who decides?
How do we get policymakers to understand the importance of investing in the early years?
How can we build a movement that will compel policy makers to listen and act?
How do we help low-income families, especially families of color, make better parenting decisions?
How do we advance racial justice and improve socioeconomic conditions in low-income communities of color?
How can we help children in neglectful or abusive situations?
Why do parents have so much difficulty providing a loving, nurturing environment for their babies?
How do we ensure more children are kindergarten-ready?
How do we ensure all families have access to affordable, high-quality early care and education?
How can we increase the number of mothers who breastfeed?
How can we ensure that mothers have the time and privacy to pump at work?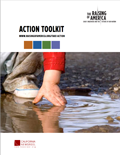 Eight Ways to Use the Series to Advance Your Work
Six Elements of a New Conversation
Planning a Successful Screening