TAKE ACTION
Menu
Choosing the Right Episodes, Panelists & Co-sponsors
What to Screen?
Be intentional. Ask yourself:
What are we trying to accomplish with this screening event? What kind of conversation are we trying to spark?
How much time do we have? Should we show a few five-minute clips, a full episode, or multiple episodes over several sessions?
What issues are most relevant to our audience? Should we stick to the most relevant parts of the series or show segments that will broaden the conversation?
The documentary series covers a lot of ground. Your job is to provide context and information so your audience can relate what's on screen back to their own work and the initiatives you hope to promote.
Who Are the Right Speakers & Panelists?
Speakers and panelists can go a long way toward creating a powerful conversation. Ask yourself:
What speakers and panelists can help audience members connect their aspirations to a vision of how change might occur?
Who can link the content of the film to your local landscape for families with young children?
Do you need a policy perspective? A community perspective? Business? A cross-sectoral perspective? The "big picture'?
Do you need expert voices to share the stats and figures specific to your geographic area? Community organizers who can connect social conditions to who has power?
What expertise/experience/perspective will inspire audience members?
Which Co-sponsors?
One of the critical points of The Raising of America is that raising America's children is not an issue solely for early childhood advocates—it is the concern of those across the spectrum. Ask yourself, what would a cross-sector of sponsors look like?
People and policies in transportation, business, housing, wages, urban development, public health, and economic policy?
Co-sponsors from a variety of organizations, across sectors, issues and communities?
Local racial justice advocates, school boards, housing organizations, women's groups, pediatrics departments, environmental groups, business leaders, transportation authorities, and public health organizations?
Reaching across these sectors will not only diversify the views you bring to the screening conversation, it will diversify the audiences that join the conversation—something that will benefit us all.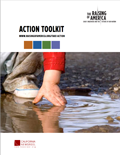 Eight Ways to Use the Series to Advance Your Work
Six Elements of a New Conversation
Planning a Successful Screening